These requirement specifications apply to the content and design of the document presented to the customer as their applicant's declaration. Current version: v3.2 2021-08-24.
Format and content
All document text must be in Norwegian. The subscriber accepts subscription terms and conditions by signing this declaration, and the Norwegian text is what they must accept.
English translation of the personal declaration for information purposes only
The domain name holder should be provided with a copy of the terms and conditions they have accepted as soon as possible. This can be achieved by making them available for download when the declaration is signed, or by sending them to the holder afterwards.
The applicant's declaration document must be generated based on data collected or generated during the process. The document must comprise three sections: A, B, and C. Adding or subtracting elements, such as text, graphics, etc., is not permitted.
Section A
Header "Egenerklæring ved bestilling av domenenavn"
The following introduction:
"Denne erklæringen og abonnementsvilkårene som til enhver tid gjelder, utgjør til sammen kontrakten mellom Norid AS, som driver registeret for norske domenenavn, og deg som abonnent. Når du signerer erklæringen, binder du deg til vilkårene for å registrere et norsk domenenavn (domenenavn som slutter på . no). "
Section B
Norid's contract text
Jeg erklærer med dette at registrering og/eller bruk av domenenavnet
ikke er i strid med abonnementsvilkårene, se https://www.norid.no/no/om-domenenavn/regelverk-for-no/
etter min kunnskap ikke medfører urettmessige inngrep i tredjeparts registrerte eller uregistrerte rettigheter til navnet
ikke er i strid med norsk rett
ikke uberettiget gir inntrykk av å angå offentlig forvaltning eller myndighetsutøvelse
Jeg har satt meg inn i de kravene som gjelder i forbindelse med registrering og bruk av domenenavnet og er kjent med mine rettigheter og plikter. Jeg er kjent med at
Norid samler inn og behandler opplysninger om domeneabonnementer for å kunne oppfylle avtalen med meg som abonnent og forvalte det norske toppdomenet på en måte som bidrar til robust drift av internett som infrastruktur.
Norid driver en oppslagstjeneste der publikum kan slå opp et domenenavn og få informasjon om abonnementet, om meg som abonnent, om teknisk kontakt og teknisk oppsett, samt hvem som er forhandler for domenenavnet. Som abonnent kan jeg oppgi en anonymisert e-postadresse så lenge adressen kan brukes til å kontakte meg.
klager på min registrering kan behandles av Domeneklagenemnda i henhold til regler og prosedyrer som følger av abonnementsvilkårene. Som abonnent blir jeg bundet av Domeneklagenemndas avgjørelse, og jeg må dekke klagegebyret hvis klager får medhold.
Norid kan trekke tilbake et registrert domenenavn når det er åpenbart at tildelingen er i strid med forhold som er nevnt i denne erklæringen, eller som på annen måte er i strid med abonnementsvilkårene.
Som abonnent plikter jeg å følge de abonnementsvilkårene som til enhver tid gjelder og holde meg oppdatert om endringer i disse. Et domeneabonnement må forlenges årlig. Ved å bestille forlengelse av abonnementet, godtar jeg den abonnementsavtalen og det Regelverket for norske domenenavn som til enhver tid gjelder.
Section C
Data provided by the doman name holder and data that must be added by the provider or system
Data provided by the domain name holder
Data element
Description
Domainname
One or several names are permitted.
ACE-coded version must be used for IDN domains.
Domain name holder's identity
Organization number when the holder is a business enterprise or other organization.
Personal ID when the holder is a private individual..
Domain name holder's name
Organization name when the holder is a business enterprise or other organization.
Personal name when the holder is a private individual.
Name of person giving consent
Name of person submitting the declaration on behalf of the holder.
For business enterprises and other organizations, the person must be authorized to sign for the organization. For private individuals, the holder normally signs the declaration personally.
Table 1
Data added by the provider or system
Data element
Description
Time stamp
Date and time for when the holder submitted the declaration.
The time stamp must use UTC and the following format:
2012-08-22T08:19:31Z
Version number of declaration text
Version number of the declaration text that the holder has read and accepted.
This element is necessary in order to identify and manage declaration text revisions. The format of the version number is defined by Norid and published as part of the declaration text.
Table 2
Submission of applicant's declaration data
The provider transfers a copy of the complete data set to Norid via EPP using the following commands:
domain-create for new registrations
domain-update for change of holder
Examples of how the completed document should look
For business enterprises and other organizations
Without special characters in the domain name: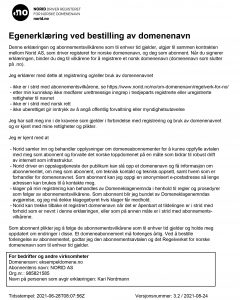 Several domain names in the same declaration, domain names including special characters: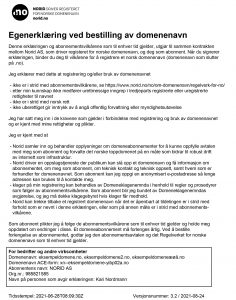 For private individuals
Without special characters in the domain name: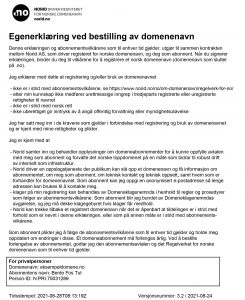 Several domain names in the same declaration, domain names including special characters: