Profiling for .no registrars
Profiling for .no registrars
On this page you will find Norid's official .no badge that you may use if you need it.
General usage
As long as you have a legitimate need to communicate that you operate according to a contract with Norid, you are welcome to use the .no badge in your own promotions and profiling, as it is shown below. Feel free to refer to us in a neutral and objective manner. If you do, please do not use the logo with our company name in it. Rather, write "Norid" in your regular text.
In order to avoid misunderstandings and confusion, we ask that our trademarks and any reference to our company name is removed when you no longer operate according to a contract with us.
You are welcome to contact us if you have any questions as to how you should refer to Norid or how you can use our trademarks.
Here you can download the .no badge as vector graphics (SVG) in colour and monochrome. If you need raster graphics (PNG), you may download the ZIP-archive which contains vector and raster graphics in both colour and monochrome.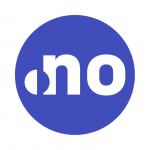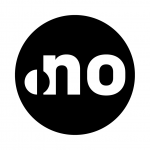 Download here: .no badge (ZIP-archive)